Engine Oiling, Oil Pan and Indicator (Dipstick) for 2021 Ram ProMaster City
No.
Part # / Description
/ Price
Price
Hex Head Bolt And Coned Washer
Transfer Case Upper Lever. Reinforcement to Rail. Hood Hinge To Body. [m8x1.25x25.00]. Engine Oil Cooler Tube To Cylinder Block. And Washer Cone Pilot Pt M8x1.25x33.00. Oil Level Indicator Tube to Block. Exhaust Bracket. Splash Guard To Cradle. Hinge to Ctr Plr Hgr Reinf Lwr.
Oil Drain Plug
[M18 x 1.0]. [M14x1.50x21.50]. Used Up To 05/22/2020. -NAM ( with Out Mexico).
Hex Flange Head Bolt, Mounting
Ladder Frame To Engine Block. Bedplate To Cylinder Block. Oil Pan To Bedplate. Ladder To Cylinder Block. [m8x1.25x104.00]. Ladderframe to cyl block. [m8x1.25x103]. Damper Pulley To Crankshaft. Oil Pan To Ladeder Frame. Oil Pan to Ladder Frame.
No.
Part # / Description
/ Price
Price
Hex Flange Head Screw, Tensioner To Bracket
Hex Flange Head Bolt
M8x1.25x30.00. Oil Filter Adapter To Cylinder Block. Bracket to Block. Tensioner to Accessory Drive Bracket. Timing Chain Cover To Engine Block. Tensioner attaching. Oil Filter Adapter To Oi Pan. Bracket attaching. A/c discharge jumper to condenser. [m8x1.25x30.0].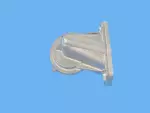 Engine Oil Filter
Small Oil Filter Is Used Due To Clearance Issues With Radiator Hose. 74. 07/01/2013 And After. See Note. Without Scat Pack Performance Package For Production Date 10/15/2014 And After. [22mm].